What will you find in the Miniclub?
The Miniclub is a free service* for all the clients of the Talaso Atlántico hotel: for guests staying, for users of the thalassotherapy center, the restaurant or cafeteria.
Rates:
Hotel: Free

Thalassotherapy users: 3 h free + 3 €/hour extra

Cafeteria users: 1 h free + 3 €/hour extra.

Restaurant users: 3 h free + 3 €/hour extra.

Extra siblings: 2€ per hour.
Miniclub can enjoy children between 2 and 12 years (as long as they walk by themselves).
Upon arrival of the child to the Miniclub must present to the monitor the access card provided by the hotel reception, cafe or thalassotherapy center.
The monitor can not give the bottle, food or snack in the miniclub or changing diapers.
It is mandatory to take off when entering. Adults have shims to cover shoes or slippers.
The schedule is as follows:
| WINTER SCHEDULE | |
| --- | --- |
| Friday | 15:00-20:00 |
| Saturday, sundays and festives | 11:00-14:00 |
| | 15:00-20:00 |
| SUMMER SCHEDULE | |
| --- | --- |
| Monday to sunday | 11:00-14:00 |
| | 15:00-20:00 |
Likewise, it is possible to consult the possibility of reserving the Miniclub for private children's parties such as birthdays.
Outdoor Park Area
In the outdoor park, and with sea views, you will find all the elements to have a great time with the kids.
Young children will be able to play in a wooden tower with a slide with climbing panels or a pirate ship with slide and lookout point to feel like Jack Sparrow.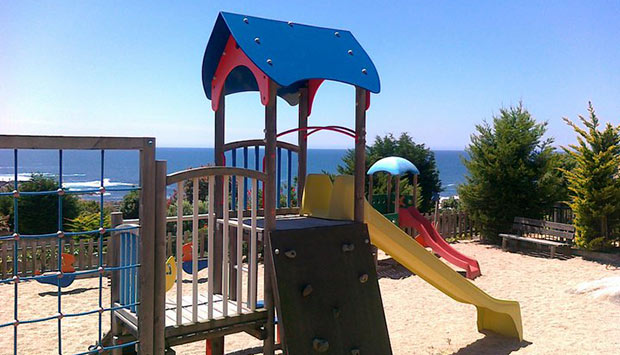 You can not miss the wooden rockers to get on and off with your friends.
We also have wooden tables and benches.
The sand floor can play with shovels, rakes, buckets, wheelbarrows ... we have at your disposal.
Interior Area in Miniclub
In one of the zones we find Wii consoles and PlayStation with many video games for children. We also schedule movie sessions for kids, a luxury mini-film library: Spiderman, Madagascar, Shrek, Gardfield, Harry Potter ...
Cushions, psychomotricity modules and our computer with internet access for children's pages. Do we play a song session??
In the central part we find the craziest and funniest area: a giant centipede tunnel, a Feber minitobogan, an animal rocker, a large interactive tree (sounds, basket, horseshoe), a children's mini-box, a tree house with slide For children up to 3 years and up to a tricycle.
In the most didactic area of the tables and slates, we go back to school: symbolic games (kitchens, garages, dolls, tools, workshop, shopping cart ...), crafts (drawings, plasticine, collars, Face games ...), puzzles and puzzles for different ages, board games (Collected Games, 4 online, Sink the fleet, Magic games, cards ...), a reading area with books for all ages and in Several languages ... and the giant chalkboard with colorful chalks!
All these services will help you enjoy your free time and others that will facilitate and make your stay in our facilities more pleasant.
HTA Miniclub Conditions and Rates
---
Contact